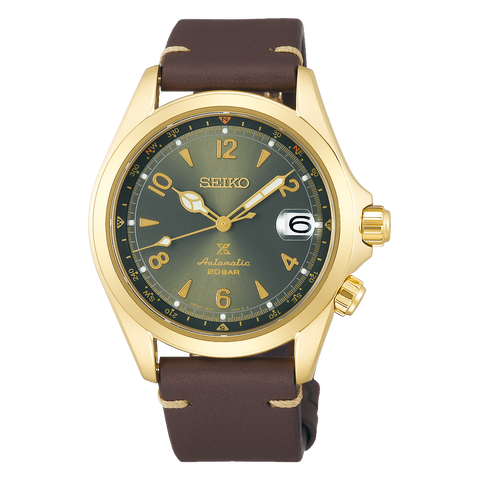 SEIKO ALPINIST SUNBEAM FOREST GREEN - SPB210J1
Pickup currently unavailable
Seiko introduced the Alpinist wristwatch in 1961 with the intention of it becoming a reliable timepiece for Japanese mountain climbers and other sports enthusiasts alike. The production of this watch was vital because it was the first real attempt at making a sports watch by Seiko. Seiko Alpinist watches started being produced in 1961 and inspired by Yama-Otoko, which is Japanese for mountain men. Mountains cover much of the Japanese landscape, and the mountain men that worked or spent time in the mountains during their free time were supposedly the inspiration of this line of Seiko watches. These men required excellent gear that could handle the rugged terrain and that they could depend on for accuracy.
The newest Alpinist Sunbeam Forest Green Ref. SPB210J1 joins the pioneers (along with the new Sumos and Presage) to have a new movement; powered by Seiko's latest automatic caliber, 6R35, which is an upgrade from the workhorse 6R15. It still operates at 21,600 BPH (3 Hertz) with hacking and hand winding capabilities. Its main updates are the increase of jewels to 24 and a power reserve of 70 hours from 50 hours on previous versions.

Summing things up, the all-new Seiko Alpinist came a long way since 1961, springing up from the ever modest beginning as an entry-level sporty explorer watch to become a concurring horological marvel in continuation with the livery today.