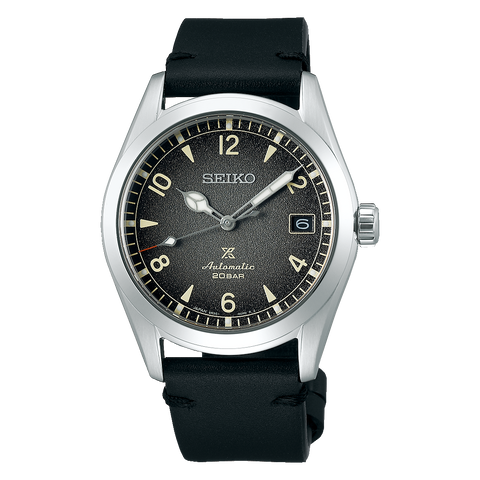 SEIKO BABY ALPINIST - SPB159J1
Pickup currently unavailable
Seiko introduced the Alpinist wristwatch in 1961 with the intention of it becoming a reliable timepiece for Japanese mountain climbers and other sports enthusiasts alike. This watch's production was vital because it was the first real attempt at making a sports watch by Seiko. Seiko Alpinist watches started being produced in 1961 and inspired by Yama-Otoko, Japanese for mountain men. 
The newest Alpinist Core joins the pioneers (along with the new Sumos and Presage) to have a new movement; powered by Seiko's latest automatic caliber, 6R35, an upgrade from the workhorse 6R15. It still operates at 21,600 BPH (3 Hertz) with hacking and hand winding capabilities. Its main updates are the increase of jewels to 24 and a power reserve of 70 hours from 50 hours on previous versions.

True to the original dimension of the SARB017 Alpinist, the new Alpinist Core has a new diameter of 39.5mm, a 46.4mm length from lug to lug, with a 20 mm lug width. Quality is excellent. The case beats the previous SARB series and other competition in the same price category, hands down.