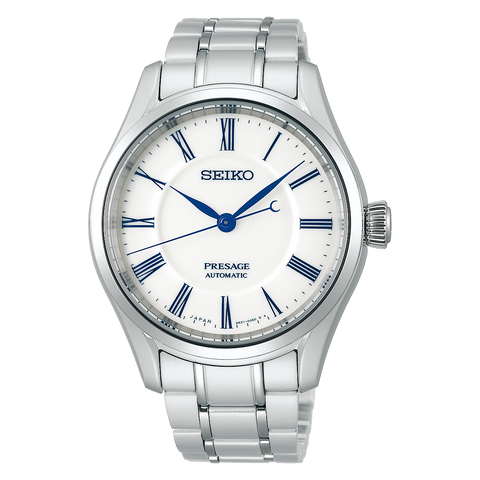 SEIKO PRESAGE ARITA PORCELAIN - SPB293J1
Pickup currently unavailable
Arita porcelain is an ancient Japanese craft named after a small town located on the Japanese island of Kyushu. Towards the end of the 16th century, porcelain clay was found in the vicinity transforming the area into a hub for Japanese porcelain.
Early wares used underglaze blue decoration, but by the mid-17th century, Arita was at the forefront as Japan developed overglaze "enameled" decoration in a range of bright colors.
It wasn't long before the porcelain products made in Arita became prized all over Japan for the high quality of their artistry. By the 19th century, it was being exported all around the world, dispatched by sea from Arita's port of Imari. Although porcelain is also made elsewhere, porcelain made in Arita is uniquely Japanese, and so it seems fitting that Seiko has chosen to use this material for the dials of its new Presage watches.
The dial of the new SPB293J1 is simple, clean, and traditional but also shows great attention to detail. First of all, they aren't flat but are approximately 1mm in height and curve downwards from the indexes to the dial center to create a soft form with depth. As an elegant time-only watch, there is no date window to ruin the sleekness of the design. It has elongated, blue-toned Roman numerals and blued leaf-shaped hands. The main difference comes from the color. The SPB293J1 features a traditional milky-white dial.