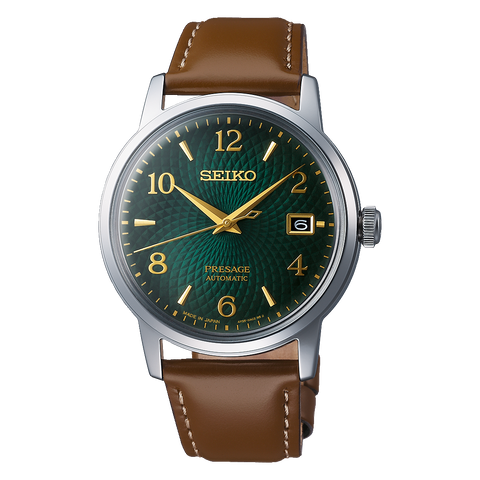 SEIKO PRESAGE AUTOMATIC COCKTAIL TIME "MOJITO" - SRPE45J1
Pickup currently unavailable
Back in 2010, a Seiko mechanical watch inspired by the glamour of the cocktail bar and designed especially for the Japanese market started to attract attention on the world's watch blogs, forums, and websites. In the months and years that followed, the watch became famous, and it has come to be coveted by Seiko fans all over the world. Today, we offer a series in our all-mechanical Presage collection that is based on this watch. In doing so, we bow delightedly to the wishes of Seiko enthusiasts, and we raise our grateful cocktail glasses to them all.
The case of the new Seiko Presage Cocktail Time Mojito SRPE45J1 has been made slightly smaller, as it measures at 38.5mm. However, the overall shape and finish remain familiar to the previous iterations of this range. It remains narrow and clean, with straight narrow lugs, a narrow bezel and a mirror-like polish all over this case. It is effortlessly elegant, as a large crown is positioned at 3 o'clock. 
The vivid green pressed dial pattern earns this watch its 'Mojito' nickname. The texture of the dial is inspired by old-school cut crystal drinking tumblers. The striking green colouration of the dial is complemented by the golden dauphine hand set which adds a further touch of class to the dial. 
MOVEMENT