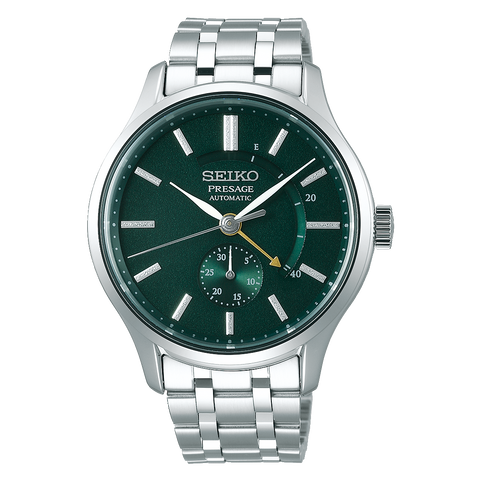 SEIKO PRESAGE AUTOMATIC ZEN GARDEN - SSA397J1
Pickup currently unavailable
Back in 2010, a Seiko mechanical watch inspired by the glamour of the cocktail bar and designed especially for the Japanese market started to attract attention on the world's watch blogs, forums, and websites. In the months and years that followed, the watch became famous, and it has come to be coveted by Seiko fans all over the world. Today, we offer a series in our all-mechanical Presage collection that is based on this watch. In doing so, we bow delightedly to the wishes of Seiko enthusiasts, and we raise our grateful cocktail glasses to them all.
At Baselworld 2019 Seiko introduced the Zen Garden range of Presage models with textured patterned dials that drew their inspiration from traditional Japanese gardens. The simple and serene design cues from traditional gardens are reflected in a series of five new models being added to the Presage line.
Two models utilize the 4R57 calibre and come in either a silver dial with the SSA395J1 or a green dial on the SSA397J1. The dials are textured and this contrasts with the date sub-dial and power reserve gauge.
The other models are the white & blue dialled SRPD39J1 & SRPD41J1 in a stainless steel case or the white dialed SRPD42J1 that comes in a rose gold colored case. Both models use the 4R35 calibre and have the date window positioned at six o'clock.
MOVEMENT