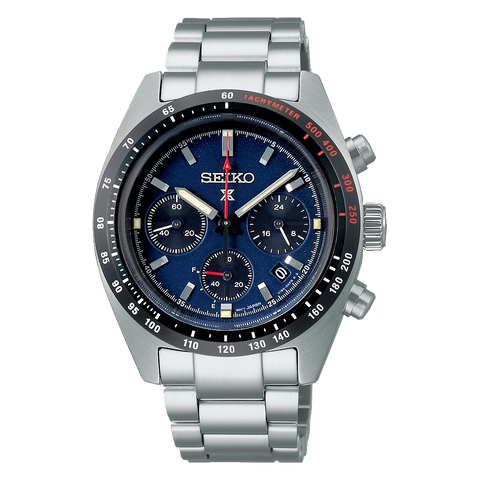 SEIKO SPEEDTIMER SOLAR - SSC815P1
Pickup currently unavailable
In the 1960's, Seiko announced itself on the international sports timing stage with a whole new generation of high-precision equipment that was enthusiastically endorsed by many international sports federations and used to capture elapsed time at many of the world's leading sports events.
Central to this success was a range of stopwatches that incorporated Seiko's innovative "heart-shaped cam" mechanism, a feature that delivered a level of precision once thought unachievable by manual sports timing devices. Then, in 1969, Seiko introduced the Seiko Speedtimer with the innovative Caliber 6139.
It was the world's first automatic chronograph with a column wheel and vertical clutch, two devices that delivered real improvements in the measurement of elapsed time in a wristwatch and are still a prerequisite in high functionality chronographs.

Today, a new series of six watches inspired by the Speedtimer and Seiko's rich and continuing tradition of sports timing join the Prospex collection. A limited-edition watch with a new automatic chronograph movement pays faithful tribute to the design of the 1964 stopwatch, while this, the second version with the same caliber and a series of four solar chronographs complete the range.
Movement